Read stories submitted by friends and fans about seeing Michael live, meeting him in person, and their experiences with his music. Have a story to share? Submit yours below. Some fan stories are also posted on other pages on this website, where appropriate.
For additional conversation with the Michael Hedges fan community:
Follow the Michael Hedges Fanpage on Facebook.
Join the Michael Hedges Fan Club on Facebook.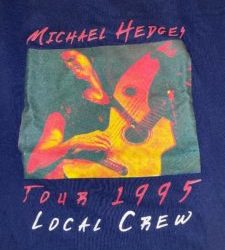 Submitted by Tom McVey I worked as artist liaison at a venue back in the early/mid 90's and Michael played twice during my tenure. I would always request working his shows so I could meet and talk to him. I was first 'introduced' to him in 1988 via a friend's copy of...
read more
Have Your Own Story to Share?
This website is a collaboration between Michael's family, friends, collaborators and fans. We'd love to hear your story about seeing him live, meeting him, or anything else you'd like to share!
Well-written stories with a high quality images (roughly 800×600 pixels) and 3-5 paragraphs of text will be published on the fan stories page and/or throughout the website if they meet our standards for quality and respectful communication on this website.
Please write your story and upload your image using this form. We'll be in touch when your story is published on the blog so you can share it far and wide! Please be patient after submitting the form as the upload can take a moment or two.