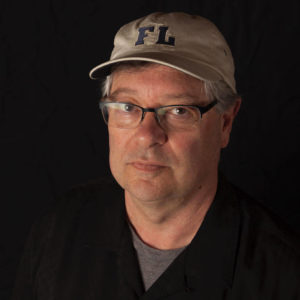 The following is the first post in a series by Randy Lutge, a longtime friend of Michael Hedges and Manager of the New Varsity Theater in the 1980s. Randy Lutge went to Gunn high school in Palo Alto, California — the same school as Alex deGrassi and Will Ackerman. While studying at U.C. Berkeley, he studied "ethnographic filmmaking," a study that would inform much of his later life's work. During summers at Cal, Randy toured Europe, playing guitar and singing in the band "Montana" with college buddies. In 1974, his father took the lease on The Varsity Theater in Palo Alto and asked Randy to join him there as a manager and live music producer. He would eventually become a partner in that business. When the lease ended at The New Varsity, Randy spent 17 years with Alexia Moore Wine Marketing. Today, he is a professional photographer/videographer living in the coastal town of Mendocino. 
In the late seventies we started to ramp up our live music scene at the New Varsity Theater Restaurant & Bar.
Palo Alto was ripe for a vibrant venue and there was abundant talent in the area.
Windham Hill was in early development. We presented Alex de Grassi and Will Ackerman (founding Windham Hill artists) in the theater, but the open-sky courtyard restaurant and the small dining area upstairs in the historic, 1927 building, provided a great opportunity for showcasing local talent.
There were Tuck and Patti, the spectacular duo; and Jim Lampi, playing the wildly imaginative Chapman Stick. Corpo Santo blew people away with their blend of Brazilan music and "Capoeira," combining dance with Afro-Brazillian martial art. There were many artists coming through. We were trying to present unusual acts. And we were becoming known for such.
And so it was in that environment that the universe sent us the most unusual, spectacular, daring and creative artist I have ever known. In the early summer of 1980 I was hanging out in the lobby with my friend Steve Marcus when I spotted a guy with very long hair and a guitar case ambling toward us. I said to Steve: "This fellow is going to say he does Crosby, Stills, and Nash." As he joined us in the lobby he said "I hear this is the place to play in Palo Alto." "What do you play?" "Well, I do some Neil Young." Scoffingly, I looked at Steve and said "What did I tell you?"
I said to Steve: "This fellow is going to say he does Crosby, Stills, and Nash."
The prospect said, "What would you like me to sound like?"
"If you told me you could play like Alex de Grassi, or Will Ackerman, I'd be impressed."
"Okay, got it, I'll be back tomorrow."
I've always marveled at the fact that he didn't just pull "Barbara" out of her case and just blow my mind on the spot. I guess it was the perfectionist in him (a similar thing happened when he first met Leo Kotke, a story for another time) that had him go home and record "Silent Anticipations" on a cassette. Generally, while busy managing during the day, I would accept demos from interested musicians and then take them home to consider, but this tenacious, persistent and (I thought) probably laughably bold fellow, deserved a listen on the spot, so I put the cassette on over the lobby sound system. 
That is the day Michael Hedges changed my life. I could not believe what I was hearing.
That is the day Michael Hedges changed my life. I could not believe what I was hearing.
I had grown up a guitar player myself. I had a Martin D-28 as well. I lived for Jimi Hendrix in high school. I liked finger style, but this was beyond ANYTHING I had ever heard. I was dumbfounded and told Michael that the place was his, anytime he wanted, as often as he wanted. Free movies, dinner and busking cash were quickly offered.
I think it was the next night that he returned for the first gig of what would be a seven-year run of the genius composer playing guitar, piano, flute and percussion for folks, who sometimes nonchalantly walked past him busking in the courtyard. Before long these same patrons of The New Varsity were crowding the 800 seat theater, roaring in adulation.
In an upcoming blog I'll talk about how I came to start the precious collection of videos of Michael, who would become my dear friend. We travelled together, attended the Grammys together, shared meals, our kids even played together. Halcyon days.
Here's a video from 1980 of Michael performing "Silent Anticipations" in the courtyard of The New Varsity.