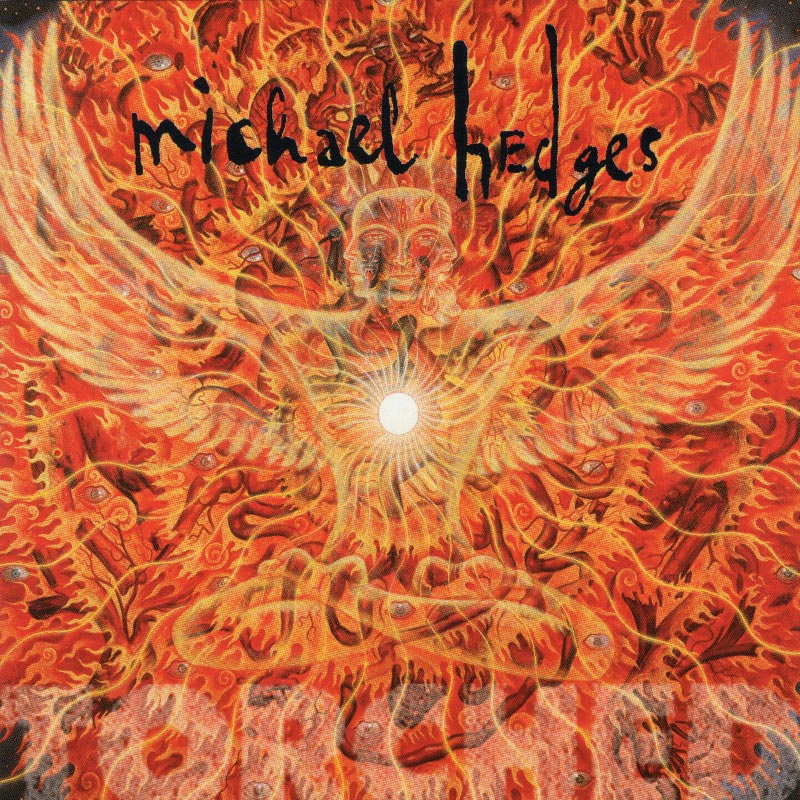 Written by Dan Pine (and Hilleary Burgess) for Windham Hill's release of Torched in 1999.
Michael Hedges died just after Thanksgiving, a holiday that celebrates gratitude.
One of the most gifted of guitarists, songwriters, performers, and singers, Hedges never failed to express gratitude for his own musical and spiritual gifts. With his tragic death on a northern California highway in early December 1997, a great artistic voice was silenced.
But now, Michael Hedges' last recordings have been assembled into a magnificent final tribute, Torched, the album he was working on at the time of his death.
Though in some respects incomplete, it remains a wholly formed musical vision.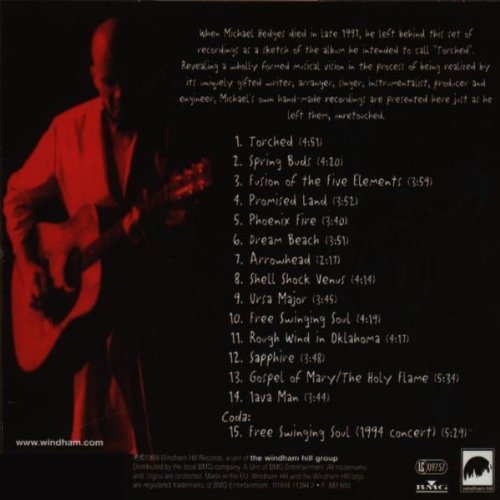 The album will reignite the love and gratitude of his countless admirers around the world.
The demos that make up Torched (so named by Michael himself) were recorded over a period going back as far as 1994, and continuing right up to the months before the accident. Some of the songs have been live favorites for several years; others will be heard for the first time.
Says Hedges' long-time friend and manager Hilleary Burgess, "With Torched, I think Michael hoped to cast off some of the artificial limits that had subtly been imposed on him by his success as a composer and instrumentalist. His work as a singer/songwriter was, to him, as important a part of his life-blood as his guitar work, and he wanted that to be reflected as much in his recordings as it had always been on stage. An album that would integrate the two had been a dream of his for a long time."
In the months immediately following Hedges's death, Windham Hill began to inquire about extant recordings.
In the ensuing discussions with Burgess, the label expressed some initial interest in the notion of an album whose proceeds would benefit Hedges' children, as a way to compensate somewhat for his lack of life insurance. But at the time, no one yet knew how viable the Torched demos might be.
"I had a sense that there were a handful of songs that could be complete enough to release," says Burgess, "but I wasn't able to envision it as a complete album. Because of my initial misgivings about turning anything over to the industry so soon after Michael's death, compounded by the fact that, personally, I wasn't immediately ready to spend a lot of time in Michael's studio listening to him sing, the album ended up revealing itself gradually over a period of months."
Using Michael's notes, his own recollections, and the sometimes cryptic markings on tapes, Burgess was able to ascertain Michael's intended sequence. "For the most part, it was a matter of deciphering what was already there in front of me," he recalls, "determining which was the most recent evolution of each component, and of the sequence itself; and then checking and cross-checking until I was sure."
During this process, as Burgess began to hear Torched as an album, a new and agonizing dilemma began to emerge.
Hedges had clearly not been through tinkering with Torched. However, he had always been so protective of his autonomy in the recording process, producing, engineering, and in most cases performing everything himself, that the idea of introducing any other sensibilities in his absence seemed, to Burgess, counter to the very nature of the project. "I played the demo sequence for Larry Hamby, head of A&R at Windham Hill," says Burgess, "and we discussed the options, from hiring a producer to finish the album, to hiring a great engineer to mix it, to releasing it untouched. Ultimately, after much careful consideration, the consensus was that, under the circumstances, the interests of both the music and Michael's vision for it would best be served by the latter approach."
That understanding, along with Windham Hill's commitment to follow through on the previously discussed idea of Torched as a benefit album, paved the way for Burgess to deliver the master.
By all accounts, Hedges' state of mind was extraordinarily positive in the months preceding his accident.
He had plans to complete Torched; he was optimistic about his personal life; he was at the top of his form musically.
As a songwriter, Michael didn't have a standard M.O. Possessing an insatiable curiosity about the universe, he drew inspiration from everywhere: from the Chinese Five Element Theory to the second law of thermodynamics. In the mid-90s, his studies with Chi Kung master Paulie Zink led him to explore other aspects of eastern philosophy and spirituality, and eventually brought him to The Tibetan Book of Living and Dying, which became a major influence.
In a 1996 interview, Michael reflected on these explorations and how they related to some of the music he was writing at the time.
"I was being very reflective, and thinking about death, and rebirth; because that's what happens when you hit 40; you start thinking about rebirth and death; you start looking at your life, and saying, 'Yeah, you know, maybe it is half over; maybe I am in my mid-life.' Ain't it grand! It's a very positive thing, "The Book of Living and Dying." It's not a morbid subject with me. So I thought: 'This is what I need to write about!'"
The lyrics of several of the songs on Torched reflect these ruminations; most notably "Free Swinging Soul" and "Rough Wind in Oklahoma." Michael often introduced the latter to audiences as a "song about turning 40." Other songs on Torched relate to specific events in his life. Sometimes a song would originate with a musical idea; other times it would be a concept or a phrase. Michael once said that if he had a set formula, it would be one more limitation he'd have to deal with; that he wasn't in this business to find limitations. "I'm in it to get high," he said. "That's what happens to me when I write music."
One of the albums emotional highlights is the vocal harmony David Crosby and Graham Nash added to the song "Spring Buds."
Recalls Burgess of the session, contributed by Crosby and Nash as a parting gift to Michael nearly a year after his passing, "The depth of emotion was palpable from the moment they walked into the studio. Over some 15 years of mutual admiration, David and Graham had developed a deep regard for Michael, both artistically and personally, that nearly matched his own reverence for them. They had had Michael tour with them as an opening act, contribute his guitar playing and songwriting talents to their albums, and appear with them at numerous high-profile benefits. In turn, they sang with him on his 1990 album Taproot. Michael often credited David for his early awakening to the idea of altered guitar tunings, and CSN's influence on him was undeniable."
Torched remains very much the work of a singer-songwriter.
From the beginning, Michael's singing had been a staple of his live shows.
Early in his recording career, noting the enthusiastic response of concert audiences to his original vocal numbers, Windham Hill gave Hedges the opportunity to record Watching My Life Go By (1985), an all vocal album produced by Elliot Mazer for its Open Air label, which also hosted Jane Siberry's U.S. debut. He followed that with Live on the Double Planet (1987), a collection of live recordings featuring a roughly 50-50 mix of vocals and instrumentals; Taproot (1990), which featured a lone closing vocal, a stunning setting of the e.e. cummings poem "i carry your heart" with David Crosby and Nash on harmonies; The Road to Return (1994), a collection of intensely personal material, predominately vocal; the Grammy-winning Oracle (1996), a return to solo guitar, again featuring a lone vocal.
Michael's longtime fans must still remember with delight and amazement the first time they heard his 1981 Windham Hill debut, the solo guitar album Breakfast in the Field.
Just prior to the recording of that album, the Oklahoma native had completed his studies at the prestigious Peabody Conservatory in Baltimore with a degree in composition, and had moved to Palo Alto, CA, where he was introduced to Windham Hill founder Will Ackerman, who offered him a record deal on the spot.
Michael's muscular style seemed so out of place with the more mellow early Windham Hill sound that hardly a review was written without some mention of this seeming mismatch. Nonetheless, his early recordings for the label, including the astounding Aerial Boundaries (1984), which has been called one of the most important acoustic guitar records ever made, did much to help establish Windham Hill's dominance in the then-emerging 'new age' genre. Michael was also a highly popular concert performer, consistently topping critics' and readers' polls in international music publications.
There can be little doubt that Michael Hedges' influence will be felt for decades to come.
Through his music, he connected with people's hearts on a very deep level.
Over the coming months and years, it's likely that the remaining handful of unreleased studio recordings, several tours' worth of live recordings from the mid-90s, and a planned tribute album featuring some of Hedges more famous collaborators and admires, will keep that connection flourishing, along with, closely following the release of Torched, some spectacular concert video footage, both recent and historic, to be made available through Michael's own fan-based mail order outlet.
Rather than rue what might have been, those who loved the music of Michael Hedges should remember and celebrate what was. His was a rare gift, and we can feel only gratitude for the jewels he left us. Among them, Torched will surely be among the most highly prized.
"You won't need it when you're flying into the holy flame."
"Once in a blue moon, an our artist comes along who totally redefines his or her musical territory. Such an artist was Michael Hedges . Without doubt Michael raised the bar and set new goals for upcoming guitar players with his unique sensibility and playing style. His latest and, unfortunately, last studio album reflects just how talented he really was. I know that he will be sorely missed by all who knew his music and were touched by his 'magic.' I considered him to be a genius and when he died I lost a great friend. The world is a much better place because of the music that Michael made." – Graham Nash
---
"Michael Hedges Music is old and new, delicate and powerful. I feel I can always hear his heart when he plays. He respected my playing too, and that simply thrills me. This CD is an essential look at the real Michael Hedges. He will never be forgotten as one of those who respected, absorbed, and yet rose above all trends to create accessible and commercial music for a new age." – Pete Townshend
---
David Crosby –  "I met Michael when he sat in the door of his Volkswagen Van and played for me "Aerial Boundaries," in the 7-Eleven parking lot in Mill Valley, before he had even recorded it. It was so transcendently strong that it cut through even my drug haze. I said, 'Please come home with me and do that again.' He did… I have loved him with my whole heart ever since. Before Michael, acoustic guitar went from about right there to over here somewhere. After Michael, it goes from near the rest of us, where he found it, to out on the other side of the world, where he set it down for just a little while. His flame went out when it was just starting to achieve full burn, and it is a great loss to the world. He was as good at friendship as he was at music and I miss him everyday."
---
Steve Vai – "Michael was unique. I don't like using that word because it's so abused, but it stands true in this case. The first time I heard him play, I was stunned into silence. Not only did I know what must have gone into practicing and performing his pieces, but I could also tell so much about his personality by the way he played. He caressed the guitar effortlessly and spun enchanted melodies from it. His tone was rich and flawless. But it wasn't until I met him that my suspicions of his warm personality were verified. He showed up at my house and invited me into his traveling home (his van) and gave me a private concert. It was a moment I'll never forget. I would anxiously await every one of his releases and cherish them for the brilliance that they are. Michael has left us with some timeless treasures. His music transcends genre and trend. It's truly musical, fun, and enlightening. If what they say about reincarnation is true, next time, I hope we're in a band together."
Click to view the original document from Torched…