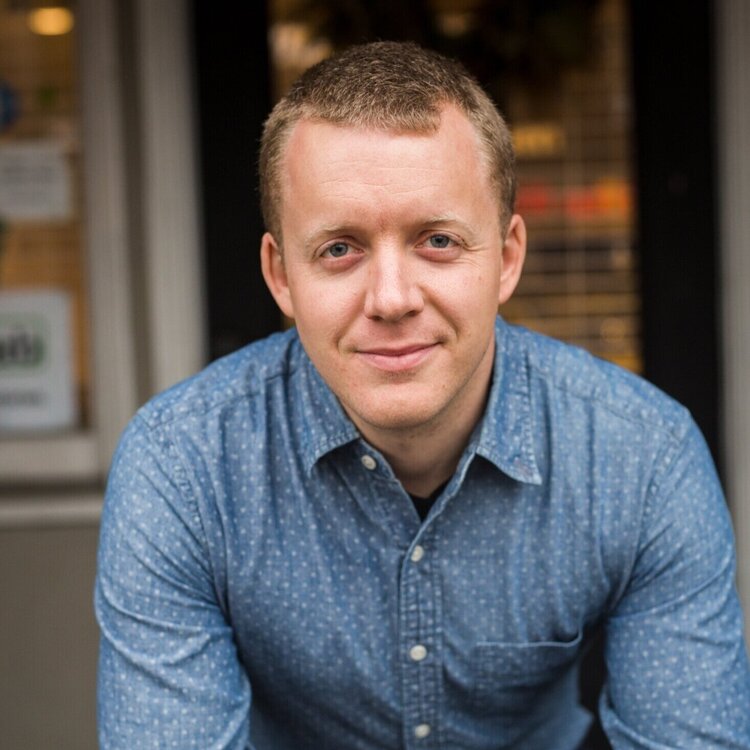 Mischa Hedges is Michael's eldest child. He grew up exploring the forests, rivers and ocean beaches on the Mendocino Coast, goofing off and playing music with his mom, dad and siblings, and roaming the vegetable garden and redwood forest in their backyard.
Mischa is an award-winning documentary producer, director and editor (Seeker of Truth, Of The Sea, Women's March). He holds a B.A. in Film Production from Chapman University's Dodge College of Film, and an MBA from Dominican University. He is the founder of TrimTab Media, where he leads the production of independent films and video content for progressive brands and non-profit organizations.
Dear friends, collaborators and fans of Michael Hedges, 
Next year it will have been 25 years since my father's untimely death. He died in a car accident when I was 13 years old. It was heartbreaking and traumatic for my family and me – Michael was not just a musician with adoring fans, he was a loving father, brother, son, close friend and musical collaborator to many. 
In the years that followed, my family and I have been focused on healing. Losing him had a huge impact on all of us. We are all still grieving him in our own ways and rebuilding our lives. My family and I have always wanted to create opportunities for people to engage with Michael's music, and the story of his life – whether they're discovering him for the first time, or have been ardent fans and supporters for years. We just haven't been in a place to work on these projects and feel like we were doing them justice. 
I know that many of Michael's most supportive fans and friends have been frustrated by the lack of legacy-building releases and projects related to his life and music. That's been complex for my family to navigate – because while none of us have felt ready to take on this work, we understand its importance deeply.
For me: In my teenage years, I was encouraged to pursue my own passions and build my own life, independent of my father's work – and I'm incredibly grateful for that freedom. It meant I was able to move away from home, attend college and pursue my interests. It gave me the space to become my own person without getting wrapped up in my father's affairs. I recognize today that this freedom was a huge gift. In my early 20s, I didn't feel ready personally or professionally to work on anything related to my father's work. But preserving his legacy has always been important to me.
Today, I'm in my mid-thirties, and I feel a strong pull toward projects related to my dad's music and legacy. I've spent the last 10 years building a company that produces documentary films and provides digital marketing services to progressive organizations. I'm in a place where I finally feel I have the emotional bandwidth, professional experience and motivation to be closely involved with projects to further my father's musical legacy. It feels like the right moment to do this work. 
Last year we were pleased to support the reissue of Michael Hedges/Rhythm, Sonority, Silence written with his friend, the foremost fingerstyle guitar educator, John Stropes, Director of Guitar Studies at the University of Wisconsin-Milwaukee. This beautiful, award-winning book was the result of a decade-long collaboration during which John recorded over 100 hours of concerts, master classes, lectures, interviews, and special sessions. We look forward to advancing John's work developing state-of-the-art transcriptions and new delivery platforms.
This year, my family and I are working on several projects that will tell the story of Michael's life and music and preserve his legacy, including:
A modern, full-featured Michael Hedges website with learning resources, recordings, a video library, transcriptions, a store with Michael Hedges merchandise and more (you're looking at Phase 1 of this project!)
A feature documentary film about his life and music 
Contributing to a written Michael Hedges biography by Jake White
Supporting the creation of a second volume of transcriptions of fingerstyle compositions by Michael Hedges, to be released in late 2021 by Stropes Editions, Ltd.
Reconnecting with Michael's fans, friends, collaborators and colleagues is going to be a huge part of all these projects. As we've gotten started on this work, I've been continuously amazed by how my father's music and personality touched people's lives, and it's an honor to hear those stories from you.
Thank you for your ideas and feedback – we're looking forward to the journey ahead!
With love,
Mischa Hedges & The Family of Michael Hedges