Conceived as an "autobiographical myth told in music, Taproot offers twelve "pixyish instrumental journeys, with often ingenious arrangements, pristine instrumentation and pleasing melodies" (BAM Magazine).
The final track (13) is the lone vocal, a spellbinding setting of an E. E. Cummings poem with soaring background vocals from Hedges pals David Crosby and Graham Nash.
In the fall of 1990, Michael Hedges released his first instrumental album since Aerial Boundaries (1984). It was recorded in his newly-completed studio "The Speech and Hearing Clinic" (named after his father's speech therapy clinic in Enid, Oklahoma). He said, "We made a really nice studio in the middle of the woods in Mendocino, California. So as soon as that got done, I started recording Taproot."
Inspired by the writings of Joseph Campbell, Taproot was written as an introspective soundtrack to Hedges' unpublished personal autobiographical myth of the same name. As part of a new focus on spiritual development, he followed Campbell's suggestion to write his own myth. His botanical-themed myth cast himself as "Taproot" and members of his family were represented as characters/plants in the story.
His story even represents his chiropractor and other healers in his life as "The Rootwitch." He named the concept album tracks after characters and places in this personal fairytale-myth (included in the album liner notes). He called the music of Taproot "savage myth guitar." And the music is phenomenal.
Taproot featured fingerstyle guitar, rhythmic plectrum tunes, and violent two-hand tapping pieces. It included compositions on unusual instruments: a harp guitar, a Steinberger TransTrem electric guitar, and a high-strung guitar. Hedges' myth-fueled guitar playing was enhanced with other instruments, including bass guitar, saxophone, flute, whistles, clarinets, and piano. Taproot was almost entirely instrumental but it ended with the vocal tune "i carry your heart," which Hedges wrote on a low-strung guitar using the words from an e.e. cummings poem "[i carry your heart with me(i carry it in]." Hedges' friends David Crosby and Graham Nash sang harmony vocals on this track.
Taproot met critical acclaim and was nominated for a Grammy® in the category of Best New Age Performance.
Words by Jake White, biographer
Photo credit: unknown
Tracks
The Naked Stalk
The Jealous Tunnel/About Face

⁴

The Jade Stalk ⁵
Nomad Land ⁵
Point A
Chava's Song
Ritual Dance
Scenes (on the road to shrub 2) ⁵
The First Cutting ⁴
Point B
Song of the Spirit Farmer
The Rootwitch
I Carry Your Heart ¹ ² ³
Album Credits
Performances by:
Michael Hedges: guitar, whistle, synthesizers, bass, piano, drums, percussion, sound effects

¹ Michael Manring: fretless bass
² David Crosby: harmony vocals
³ Graham Nash: harmony vocals
⁴ Bryan Lanser: percussion, drums
⁵ Mike Moore: clarinet, bass clarinet, saxophone

Produced by Michael Hedges
Recorded at the Speech & Hearing Clinic, Mendocino, CA – and at the
Record Plant, Los Angeles, CA.
Mastered by Bernie Grundman
Graphic Design by Candace Upman
"Taproot" photography by Donald Graham
Inside cover photography by Carl Studna
DEDICATED TO THE SPIRIT OF THE WEST WIND
All songs written and arranged by Michael Hedges except "I Carry Your Heart" lyrics by e.e. cummings and arrangement by E.J. Ulrich & Michael Hedges.
Release Date: 1990
"There is not anyone on the face of God's beautiful blue earth that plays the guitar like Michael Hedges."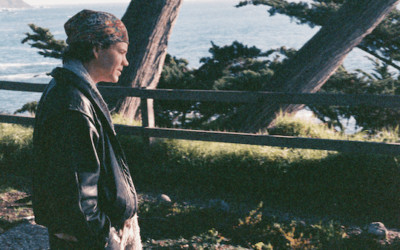 When Michael built his studio in Mendocino I would take many trips up the coast to hang out with the Hedges family and record some original songs together.
...
Have Your Own Story to Share?
This website is a collaboration between Michael's family, friends, collaborators and fans. We'd love to hear your story about seeing him live, meeting him, or anything else you'd like to share!
Well-written stories with 1-5 high quality images (minimum 800×600 pixels) and 3-5 paragraphs of text will be published on the blog if they meet our standards for quality and respectful communication on this website.
Please write your story and upload your images using this form. We'll be in touch when your story is published on the blog so you can share it far and wide!