From original Nomadland.com website.
The following is a listing of the equipment Michael used in his recording studio "The Speech & Hearing Clinic" in Mendocino, California.
Tape Machines
MCI/Sony JH 110 1″ 8-track w/ 8 channels of Dolby SR
Otari MTR 20 ―" 2-track
Otari MX 5050 ž" 2-track
Sony PCM 501 2-track F-1
Sony TCD-D10 Pro R-DAT
Alesis ADAT-XT

Mixers
Calrec M series 12×2 mixer
Mackie 8-buss for sub-mixing stereo effects, stereo synths, etc.
Soundcraft Series Two 12×4 located in the studio to allow Michael to control his own headphone mix
Mic Preamps
2-channel mic preamp by Millennia Media
2-channel tube preamp by James Demeter/Innovative Audio
2-channel Mic PreEminence by Studio Technologies
Equalizers
Audio & Design Scamp rack: assorted parametrics, quasi-parametrics, compressor/limiter, de-essers
T. C. 1140 4-band parametrics (4) (see Michael's stage rig for more info on the 1140)
Sundholm 1/3-octave graphic with notch filters
Sundholm stereo 10-band graphic w/ notch filters
Orban 672A parametrics (2)
Assorted Rane graphics
Reverbs
Klark-Teknik DN-780
Yamaha REV-7
Lexicon PCM-60 (2)
Other Effects
T. C. 2290 Delay
T. C. 1210 Spatial Expander
Lexicon PCM-42 Delay
Orange County comp/lim/exp (2)
Microphones
Neumann M249B
Neumann M154 (2)
Assorted Calrec mics
Assorted others (Shure, AKG, Sennheiser, Beyer)
Control Room Monitor System
E. M. Long Elf system incorporating the following:
ELF system crossover
MDM-TA2 Time-Align monitors powered by Bryston 3B
ELF system sub-woofers powered by Phase Linear 700B
MIDI
Mac Plus/Opcode Studio Plus
Digidesign Sound Designer
Mark of the Unicorn Performer
Akai S900
Casio CZ-101
E-mu SP-12
Oberheim Xpander
Roland D-50
Yamaha DX-7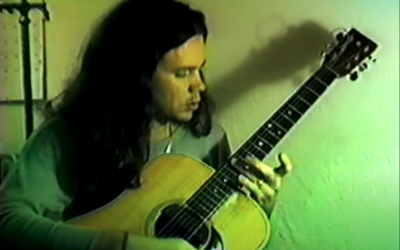 In 1983, Michael Hedges's friend Randy Lutge filmed him playing several of his songs slowly, so that others might more easily learn them.
read more