From the original Nomadland.com website.

D'Addario strings put together a calendar for '95 in which they asked the various featured artists a few questions. Michael was January's poster boy.
Interview with Michael Hedges with D'Addario
How old were you when you first started playing and who was your first audience?
Newly teened, I first performed at church on Sunday night for the youth fellowship. My friends and I sang "House of the Rising Sun"!
Who's your favorite artist, e.g., Van Gogh, Degas, Warhol…?
Hieronymus Bosch
Which person, living or dead, would you most like to spend an hour with?
Myself—first lifetime.
What about you might surprise people?
I listen to Pantera.
If you could have attended any recording session in history, which one would you have attended?
Jimi Hendrix—Are You Experienced.
If you were stranded on a desert island, what 5 to 7 albums would you want with you?
Morton Feldman: Rothko Chapel
Joni Mitchell: For the Roses
Jon Hassell: Surgeon of the Night Sky
AC/DC: For Those About to Rock
Pat Martino: Consciousness
The Beatles: Revolver
Neil Young: After the Gold Rush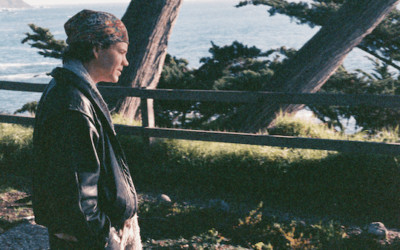 When Michael built his studio in Mendocino I would take many trips up the coast to hang out with the Hedges family and record some original songs together.
read more